Wellness throughout the life-span
At Empower Rehab and Psychology we work with individuals aged 16+ and many of our clinicians have a special interest in working with older adults. 
Ageing is not a disease, it is a wonderful process to move through and when we can, to move through it actively.
Active ageing – WHO considers the word active to mean ongoing participation in social, economic, cultural, spiritual and civic issues and not just a person's ability to be physically active or continue to work. Longitudinal studies into ageing tell us that three of the main barriers to healthy active ageing are loneliness, fear and ageism. 
We are passionate about focusing on meeting an underutilised need of older adults.  Some of the things that either you might notice and something that psychological treatment can help with include: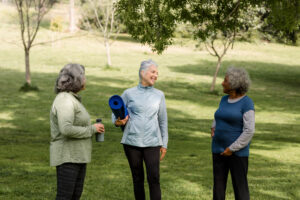 Life transition
Adjustment to changes in schedule/routine,

Adjustment to changes in usual interactions due to retirement

Loss of interest in usual activities

Adjustment in own identity and role in life
Grief
Related to the death of significant others

Related to loss of valued aspects of life
Sleep and appetite changes
Sleeping more or less

Eating more or less 
Worry and fear regarding
Potential or actual falls

Movement (particularly post diagnosis of a medical condition)

Memory changes

Age related illnesses (e.g. Alzheimer's disease, incontinence, hearing loss, cardiovascular diseases, degeneration)

Death

Changes in relationships (with friends, families, society)
Health problems are cumulative so therefore more problems are likely to be present in older age. This increase in demands can lead to a reduction in coping, relative to their previous coping abilities.
Recent evidence suggests that older adults can hold ageist attitudes towards themselves. Targeted psychological therapy can facilitate improved health and well-being in later life.