Pain Management in Practice Training Package
The pain management in practice training package includes 2 components:
access to a 5.5 hour self paced online pre-learning platform to complete both fundamental topics (Explaining Pain and Communication strategies)

a full day interactive workshop to expand and apply a range of effective pain management strategies. This is presented by a psychologist and physiotherapist who are experts in the management of complex and chronic pain conditions utilising an integrated presentation style. Face to face and online options are available for this workshop.
Workshop Dates



We offer a 30% discount for full-time students (with a cap of 3 students per workshop).
This workshop is designed to challenge and extend your skills to manage clients with pain to achieve significant functional outcomes. The workshop focuses on developing:
a further understanding of why pain can persist

skills to better identify the "hidden" barriers through a more comprehensive assessment process

a framework of treatment options for clients with ongoing pain

goals that your client is motivated to achieve

novel graded exposure plans to address fear avoidant behaviours

sleep strategies to improve disrupted sleep

specific CBT and ACT techniques to address pain

practical strategies to help a client who is 'stuck'

techniques to more effectively address challenging communication issues when dealing with resistance and how to manage difficult conversations
The workshop has a very strong practical focus to ensure you are able to implement the strategies into your working day.  Small group work is undertaken to allow time to practice new skills and numbers are strictly limited to ensure the workshop is highly interactive.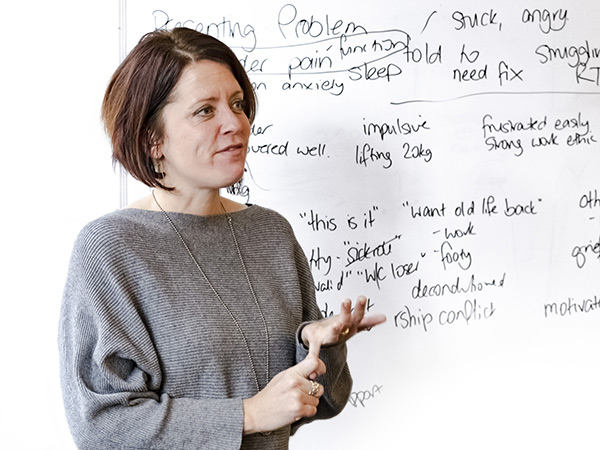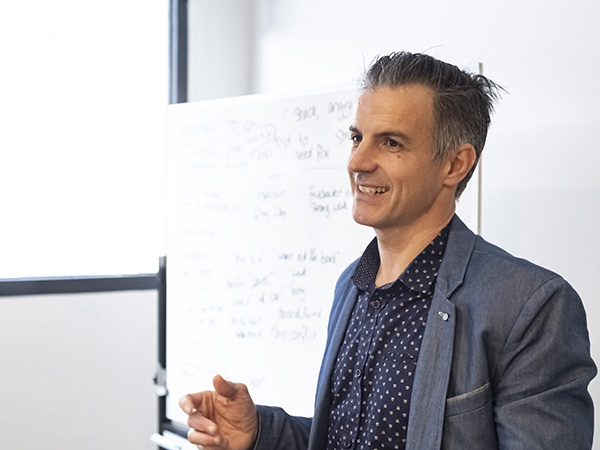 A significant gap currently exists between the scientific evidence for the best practice management of people with musculoskeletal pain and current practice. We specialise in providing practical training to Clinicians and Return to Work professionals managing people in pain to prevent the onset of persistent disability or to manage persistent pain and disability to maximise work and personal function.
We provide both face to face and online live and interactive training.
We also have 2 self paced short courses: Explaining Pain and Communication
We also provide in-house training with a tailored professional focus on a regular basis. Please contact us on 03 9459 3344 or e-mail an enquiry if your organisation has particular training requirements. We can personally discuss with you the best options to meet your needs.
We also provide mentoring and supervision for health and return to work professionals on request.
We have delivered workshop based training since 2006 to a range of health professionals including Physiotherapists, Psychologists, Occupational Rehabilitation Providers, Nurses, Occupational Therapists, Osteopaths, Exercise Physiologists, Medical Doctors and Return to Work coordinators amongst many other professions.
Interested in finding out more about professional development options? Hit this link to send an email to the Workshops team and receive news about upcoming workshops.
Please click here for our cancellation policy.
Supervision/Mentoring
In addition to the Pain Management in Practice training package and the Online training courses, both Nick and Jacqui provide mentoring and supervision for health and return to work professionals. Mentoring and supervision can be provided as a single session to address specific questions or can include multiple sessions depending on the learning needs of the individual.
Mentoring and supervision can be of benefit for:
– those who already have understanding and skills in pain management and want to extend themselves to achieve better outcomes for their clients
– those who want to consolidate and integrate skills from the training into their work and would like additional coaching
– those who would like a deeper understanding and further skills in a particular topic.
Please email info@empowerrehab.com to learn more
Presenters
Nick and Jacqui work clinically at Empower Rehab, a clinic specialising in the management of complex and chronic pain conditions, located in Bellfield, Melbourne.  They have both been invited to present at a range of National Conferences as well as WorkCover Employer Networks, consumer groups, clinical practices and occupational rehabilitation providers as well as presenting at webinars, seminars and panel forums around Australia on best practice pain management. They both focus on operationalising the current evidence on the management of complex pain by the development of practical skills to achieve the best outcomes.
Jacqui is a health psychologist who has specialised in pain management and integrating psychology within pain in both a hospital and private practice setting. She teaches undergraduate and postgraduate students and supervises registered psychologists in the field.
Nick is an APA titled pain physiotherapist who has focused on the management of complex and persistent pain after working in musculoskeletal physiotherapy. He has also previously worked as an Occupational Rehabilitation consultant and as an Injury Management Advisor for a large self insured employer. He was the winner of the treating health practitioner award in 2012.